Mr. Nikhil Seth, Executive Director of UNITAR Visit CIFAL Shanghai
2018-03-07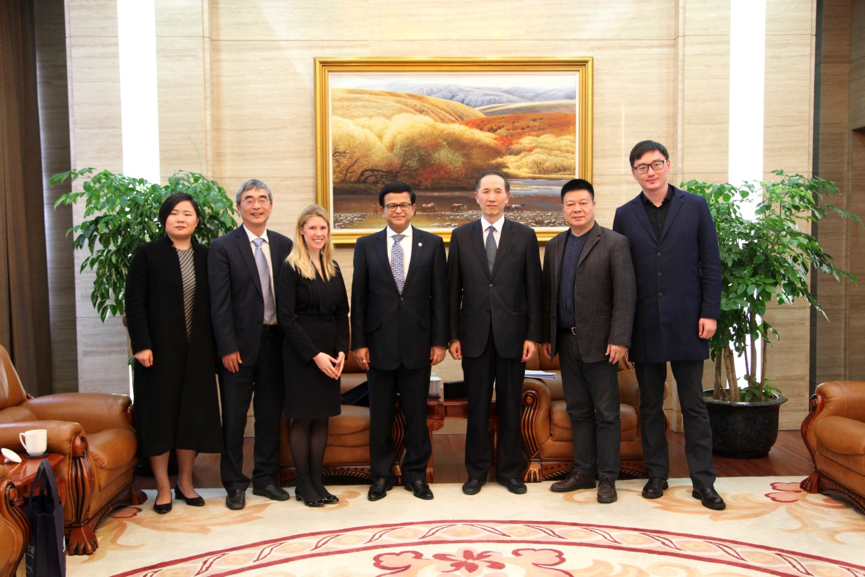 On March 5, 2018, Mr. Nikhil Seth, Assistant Secretary-General of the United Nations and Executive Director of the United Nations Institute for Training and Research (UNITAR), visited the Shanghai Asia Pacific Economic and Informatization Training Center (CIFAL Shanghai).
CIFAL Shanghai is a member unit of the UNITAR CIFAL Global Network in China. Mr. Wang Genxiang, director of CIFAL Shanghai, extended a warm welcome to Mr. Nikhil Seth's visit and introduced CIFAL Shanghai's development history and major businesses Including China aid training programs, UN projects and international conferences, in particular the ongoing project of UNIDO Global Science and Technology Innovation Network and prepared the 2018 Global CEO Development Conference and 2018 Global Technology Innovation Conference. Mr. Wang hopes that the tight cooperation in international training and international conferences will be launched and UNITAR will be invited to co-host 2018 Global CEO Development Conference and 2018 Global Technology Innovation Conference.
Mr. Nikhil Seth, Executive Director of UNITAR, thanked CIFAL Shanghai for his warm reception in Shanghai and appreciated CIFAL Shanghai's achievements. He introduced the basic situation of the UNITAR and was willing to become one of the organizers of the 2018 High-level International Conference. At the same time, he hope CIFAL Shanghai will assist UNITAR to organize an international conference on the UN 2030 Sustainable Development Goals in Shanghai in November or December. Mr. Nikhil Seth hopes CIFAL Shanghai will expand its activities in other cities in China and is willing to upgrade CIFAL Shanghai to CIFAL China.
Both sides also exchanged views in research report on the global scientific and technological innovation and the issue about the establishment of the UN institute of sustainable development in Shanghai. They are willing to jointly implement the UN 2030 goal of sustainable development and make greater contribution to the implementation of the UN sustainable development goals.
Previous:CIFAL Newcastle visited CIFAL Shanghai
Next:UNIDO Global Science and Technology Innovation Network project director Dr. Raymond Tavares visited Shanghai Global Science and Technology Innovation Center