Workshop Examination
12th -14th March 2015 15th March 2015
25th -27th June 2015 28th June 2015
17th -19th September 2015 20th September 2015
The workshop is based on the syllabus of the international requirement engineering board IREB.
Through the training provided by experienced trainer you will be able to use the trained capabilities immediately in the daily life of your projects.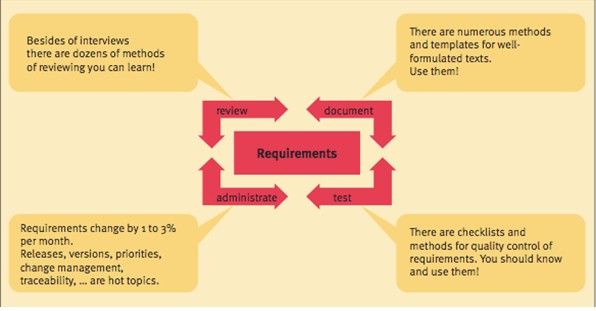 Content of the workshop
· What are the typical tasks of a requirements engineer?
· How the project goals can be defined and how the right stakeholders can be identified?
· How the scope of the project has to be defined and how the system interfaces have to be specified?
· How the decomposition of large systems can be done?
· How business process modeling and UML based use case modeling can be used effectively?
· How to clarify and manage the effective usage of terms (technical and domain terms?
· How can the system behavior be modeled?
· Not to forget the non-functional and quality requirements?
· How an effective eliciting of requirements can be done?
· What are the best structures for the user requirement specification
and functional specification
· What are the expectations to quality insurance?
· How can the right priorities be defined?
· What has to be considered managing releases and product lines?
· How an effective change management can be setup?
· What tools for requirements engineering can be helpful?
· Methods for projects not starting on the "green field"
· Requirement Engineering in "Internet-Speed"?


Many important questions for successful projects - the workshop will give you the answers.
EXAM
Passing an exam is necessary to obtain a "Certified Professional for Requirements Engineering" (CPRE) certificate of a certain level.
Exams will be done in cooperation with Future Network.
The exam will be done by a multiple choice test where in 75 minutes 45 questions have to be answered. The questions have different score values based on their level. During the exam in the certification test center not any usage of documents is allowed. For the passing the exam at least 60% of the possible score has to be reached. The exam can be done directly after the training. The exam evaluation will be done by Future Network Cert and the applicant will get the result information and the certificate by Future Network Cert.
Fee
Training fee: RMB 6.000,--
Examination fee: RMB 1.800,--
Total: RMB 7800
Lecturer
Rudolf Siebenhofer
SieITMCi Siebenhofer Consulting / Con.Ect Eventmanagement
1977 graduated at Higher Technical Collage (HTBL) Klagenfurt, Austria. Major: Electronics and Electronic Communication Engineering.
From 1977 – 2003 working at Siemens AG Austria as project manager and division head for Intelligent Networks for the telecommunication industry. Setup of and manager for Siemens subsidiary companies in Croatia and Hungary and responsible for the introduction of new technologies like Java in Siemens.
From 2003 until 2010 founder and CEO of Siemens PSE (Nanjing) Co., Ltd. as Siemens R&D Center for Software Development in China and between 2007 – 2010 COO of Siemens IT Solutions and Services in China.
Rudolf Siebenhofer served since 2003 as University Lecturer on various Universities (University of Klagenfurt Institute for Computer Science in Production, Nanjing University, South East University Nanjing, Fudan University Shanghai, University for Applied Science Wr. Neustadt, University for Applied Science Steyr and as trainer for the Siemens Management Institute Beijing).
Between 2000 and 2003 R. Siebenhofer also served as international project manager for European Union Research projects coordinating research organizations of 12 nations in the project.
His focus on research and management is on the implementation of design-to-cost programs and change management projects following the concepts and theories of Michel Hammer and the introduction of CMM, People CMM and CMMI in software companies. For this, Rudolf Siebenhofer has been awarded by CSSPIN in China 2009 as top R&D leader in China.
The experience in managing of multicultural teams in distributed projects all over the world and the social competences for that is a key competence and experience of R. Siebenhofer
Since 2010 Rudolf Siebenhofer runs his own company SieITMCi Siebenhofer.Consulting for IT-Consulting, Management Consulting and Training international with a focus on business between Europe and China.
Rudolf Siebenhofer is also certified requirement engineering professional (CPRE) and is also certified as witness expert for IT-Management and IT-Project management at Austrian courts.